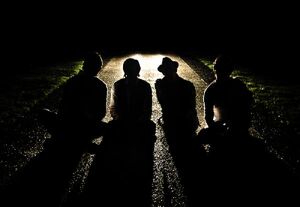 A small group of Planeswalkers that James has apparently joined up with after leaving a letter for the crew of Gongshow:Gaiden. The crew of the Airship has been described as four people: A pirate, a blue elf, a small boy, and a cloaked man.
An apparent pirate. Revealed to be Balthier Bunansa.
A 5'5" blue male with a tail. Revealed to be Kurt Wagner.
Small Boy
Edit
A young boy wearing a green tunic. Revealed to be Peter Pan
Cloaked Man
Edit
Cloaked in white, face almost completely hidden, but distinctively male. Wears glasses. Revealed to be Kabuto Yakushi.
Ad blocker interference detected!
Wikia is a free-to-use site that makes money from advertising. We have a modified experience for viewers using ad blockers

Wikia is not accessible if you've made further modifications. Remove the custom ad blocker rule(s) and the page will load as expected.