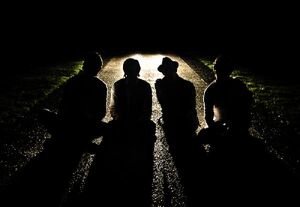 A small group of Planeswalkers that James has apparently joined up with after leaving a letter for the crew of Gongshow:Gaiden. The crew of the Airship has been described as four people: A pirate, a blue elf, a small boy, and a cloaked man.
An apparent pirate. Revealed to be Balthier Bunansa.
A 5'5" blue male with a tail. Revealed to be Kurt Wagner.
Small Boy
Edit
A young boy wearing a green tunic. Revealed to be Peter Pan
Cloaked Man
Edit
Cloaked in white, face almost completely hidden, but distinctively male. Wears glasses. Revealed to be Kabuto Yakushi.