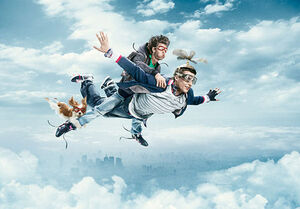 Either self-propelled, or item assisted, flight allows the reaching of normally inaccessible areas. Flight can be as simple as an assisted jump, or as powerful as a trip to the stars.
Utility Magic
Edit
Mark via Witch's Broom
Edit
Up and at them.
Twice Per Encounter * Arcane, Conjuration
Standard Action                     Personal
Requirement:
2 AP
Properties:
Can Fly up and over objects
but only a maximum of 25 feet.
| | | | |
| --- | --- | --- | --- |
| Name | AP | Range | Properties |
| Fly I | 2 | 4 | See Below |
| Fly II | 2 | 5 | See Below |
Properties
Edit
Mark's flight is limited to a total of 25 feet. He can fly up or across, but must not exceed a total of 25, or risk falling. He must land before beginning a second Fly.
Ad blocker interference detected!
Wikia is a free-to-use site that makes money from advertising. We have a modified experience for viewers using ad blockers

Wikia is not accessible if you've made further modifications. Remove the custom ad blocker rule(s) and the page will load as expected.