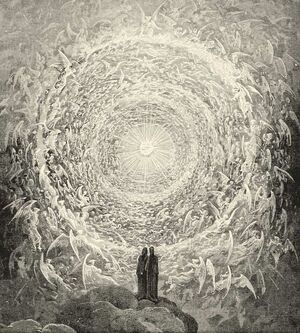 In most religions, Heaven is a transcendental realm in which people who have died continue to exist in an afterlife. The term "heaven" may refer to the physical heavens, the sky or the seemingly endless expanse of the universe beyond, the traditional literal meaning of the term in English.
The term in English has also typically been used to refer to the plane of existence of an afterlife (often held to exist in another realm) in various religions and spiritual philosophies, often described as the holiest possible place, accessible by people according to various standards of divinity, goodness, piety, faith or other virtues.
Ad blocker interference detected!
Wikia is a free-to-use site that makes money from advertising. We have a modified experience for viewers using ad blockers

Wikia is not accessible if you've made further modifications. Remove the custom ad blocker rule(s) and the page will load as expected.