Mr. Freeze

I feel a bit of a cold coming on.
Vital statistics
Class
Cryomancer/Doctor
Gender
Male
Race
Human/Ice Elemental Hybrid
Faction
Seeds of Chaos
Level
Mid-to-High
Power Source
Science
Weapons
Ice Gun
Notable Abilities
Ice Gun, Endurance
Status
Active
Dr. Victor Fries (Fries is pronounced "freeze") was an accomplished scientist until a fateful accident occurred in his research lab. A brilliant cryogenicist whose beloved wife Nora was stricken with a fatal degenerative disease, he placed her in suspended animation while searching for a way to cure her. But the corporation that funded his research--and Nora's life--pulled the plug, triggering an accident that transformed Fries' body into a cold-blooded form that must always be kept at sub-zero temperatures; at normal room temperature he will die. Wielding a number of freezing weapons, he wears a protective cryogenic suit in his quest to somehow restore his wife to full health and avenge her fate--which he partly holds Batman responsible for.
Care-a-lot
Edit
According to Prince Scorpan, Noheart left the castle and domain in Tirek's control and left with Poison Ivy and Mr. Freeze.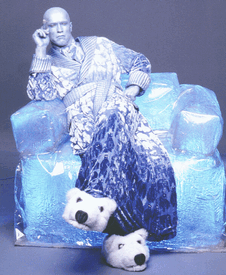 Ad blocker interference detected!
Wikia is a free-to-use site that makes money from advertising. We have a modified experience for viewers using ad blockers

Wikia is not accessible if you've made further modifications. Remove the custom ad blocker rule(s) and the page will load as expected.