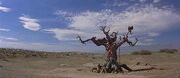 Hyboria: Everybody Has Their Own Rules
Edit
Rule 1: You Will Obey Orders Without Question
Edit
They hear they're in the world of Conan. They fight a bandit with magic. They seek out the bandit's seller. They fight Ba'al.
Rule 2: Punishment Shall Be Swift
Edit
They join the clan. Luke wipes Bethlehem's memory. Idaho remembers.
Rule 5: Your Allegiance is to the Clan
Edit
They live in the clan. They train. They cook and clean. It sucks. They escape.
Rule 3: Mercy is for the Weak
Edit
They save Conan. They fight a sorceror lady.
Rule 7: Any Clansman May Challenge for Leadership of the Clan
Edit
They sneak into the headquarters and kill big bad.
Rule 4: Terror Will Defeat Reason
Edit
Freddy Krueger.
Ad blocker interference detected!
Wikia is a free-to-use site that makes money from advertising. We have a modified experience for viewers using ad blockers

Wikia is not accessible if you've made further modifications. Remove the custom ad blocker rule(s) and the page will load as expected.